When you have a tree removed and are left with a stump, it can be an eyesore on your property. Unfortunately, stumps can be hard to remove without the right equipment. If you're sick of looking at a stump or have a few stumps that need to be remediated, Treelex is ready to help. We specialize in stump grinding in Waltham, MA—a quick and effective way to make your stumps a thing of the past.
What is Stump Grinding?
Stump grinding involves physically grinding the stump into woodchips and sawdust, without actually pulling it out of the ground. A stump grinder in Waltham, MA will reduce the overall size of the stump as much as possible and grind it down below ground level, where it can be easily covered with dirt or mulched with the grindings of the stump. Over time the root will break down and decay, being absorbed by the soil.
Why Stump Grinding?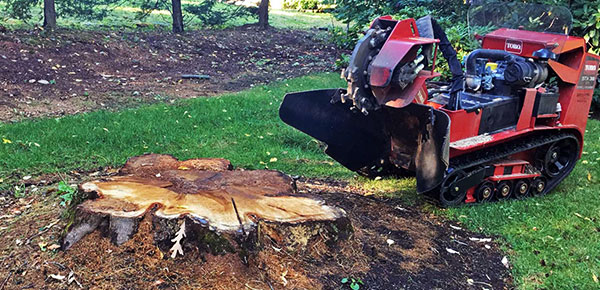 Stump grinding is a highly effective alternative to ripping out a stump for a number of reasons. Take a look at why it's a smart idea to grind a stump as opposed to digging it out:
It's quicker and easier
It's less invasive (doesn't leave behind a crater)
It doesn't require earthmoving equipment
Leftover mulch can be reused on your property
The time and effort needed for stump grinding makes it a quick and easy choice—one that Treelex is ready to assist you with.
Say Goodbye to Your Stumps
Whether you've got one stump or a dozen on your property, count on our team to quickly and thoroughly grind them down for you. Our goal is to restore your property's beauty and charm, starting with the removal of unsightly stumps. Contact us today at 617-431-8055 to get an estimate on stump grinding in Waltham, MA.