Pruning is a necessary service for trees and helps to make sure they don't become overgrown. Treelex will help you manage your tree's growth and fullness, to help avoid the many problems that come with overgrowth. Best of all, our arborists understand exactly what your unique tree demands when it comes to pruning and trimming.
In addition to trees, we also offer shrub pruning in Waltham, MA. Shrubs also need to be thinned and shaped, to make sure they remain healthy and beautiful. We're experienced in tackling most ground-level shrubbery and will gladly advise you on exactly what level of care your greenery needs to thrive.
Benefits of Proper Pruning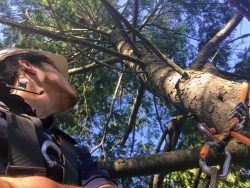 Even if your trees and shrubs look healthy, they may require a little bit of pruning. Our tree pruning service in Waltham, MA will be able to tell you if the growth of your greenery is normal or overbearing and, if it's the latter, we can thin it out to restore the health and wellness of your foliage. Some of the chief benefits of pruning include:
Good shaping for proper growth
Prevents overburdening, which strains the tree/shrub
Improves sunlight penetration
Prevents premature decay in limbs
Proper pruning will make your greenery look better and live longer, with fewer problem arising over time. Along with trimming, it's the smartest, simplest thing you can do for your trees and shrubs.
Schedule Pruning Today
Can't remember the last time you had your trees pruned? Are your shrubs looking a little overgrown? Contact the professionals at Treelex today to schedule pruning services. We'll take the time to inspect your trees and shrubs before we get to work, to make sure our pruning is done with precision, for the benefit of your greenery. Reach us today at 617-431-8055 and we'll gladly walk you through the process and benefits of proper pruning.